Benevolence Ministry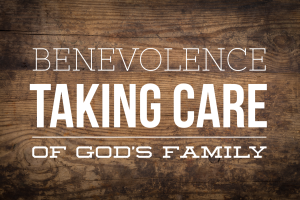 James 2:14-17 What good is it, my brothers, if someone says he has faith but does not have works? Can that faith save him?     If a brother or sister is poorly clothed and lacking in daily food, and one of you says to them, "Go in peace, be warmed and filled," without giving them the things needed for the body, what good is that? So also faith by itself, if it does not have works, is dead.
Philippians 2:4 Let each of you look not only to his own interests, but also to the interests of others.
The Benevolence ministry at Oak Hill is more than giving people a hand out. Oak Hill benevolence is an effort to share Jesus Christ by giving those in need a hand up!
Benevolence Committee
one elder
one deacon
2 members 
Non-Members
If you are not a member of Oak Hill, we do have food available for those in need.
Any other needs are addressed on a case by case basis.  The need would be approved by the Benevolence Committee.
 Members
The needs of members of Oak Hill are addressed by the committee. In addition, we do encourage spiritual guidance in how to best steward the finances God has given.  We believe some guidance in financial planning will help make a difference in the way people look at their finances and assist them in moving in a positive direction.
If you do not qualify for Oak Hill's Benevolence Program, here are some other places you can go that might help:
Posted in the Rome 211 Rome Floyd Information
Third Street Ministries – 706-235-9121
Salvation Army – 706-291-4745
Floyd County DFACS – 706-295-6500
Good Neighbor Ministries – 706-291-0566
Bagwell Food Pantry – 706-662-5622
Community Kitchen – 706-346-5708
William S Davies – Homeless (Men)  706-232-9990
Hope Rebirth Homeless Shelter 706-857-4804
Women's Outreach – 706-291-7201