Leadership
Lonnie Bowman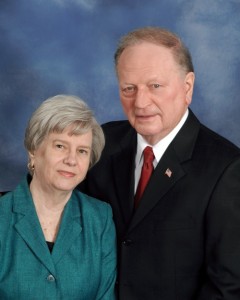 Wife –Lola (16 years)
Children – 4
Birthday- April 2
Profession – Retired  Manufacturing Management
Hobby- Bowling; Reading
Favorite Color – Blue
Favorite Food – Seafood
Community – Habitat for Humanity Restore; Community Kitchen
Oversees – Benevolence, Missions, Finance
This is my story………. I grew up in the Church, baptized at 16, and have been an active member of the Lord's body ever since.  After serving as a deacon  in  Tennessee, Alabama, Texas and Tennessee again, we moved to Georgia. All of our relocating was work related in various manufacturing positions.  I graduated from the University of Alabama with a degree in Business Management.
I was married to my first wife, Reba, for 29 years.  After her death God blessed me with another beautiful, christian woman.  In 1998, I married Lola Cotham and we have been married for sixteen years.  Together we have 4 children.
Any successes I have in my life are because of Christian principles – these principles recognized even in industry. Our moves were made easier due to Church family at each congregation. As an elder at Oak Hill, I love and appreciate our Church family and pray that we, as individuals and together as a family, will continue to draw closer to God.
As an Elder in the Lord's Church, what scripture motivates you day in and day out?  Philippians 4:13 and Romans 8:28
---
Johnny Drake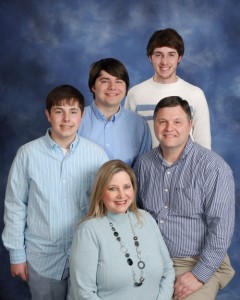 Wife - Lori (28 years)
Children - 3 boys
Birthday -July 12
Profession -Sr. Systems Engineer (Business Applications)
Hobby -Country Music and Guitar, Fishing when I can
Favorite Color - Blue
Favorite Food - Spaghetti
Community - Rome High Marching Band Pit Crew Volunteer (retiring after 7 wonderful, long years)
I was born in raised in Rome, Ga. Met Lori while we were both working at Floyd Medical Center. She asked me to go to church after we started dating. We were married in May of 1986 and I was baptized into Christ in October 1986. We have been married 28 years and have three fine christian sons. We enjoy spending time with them and our church family. I have been a deacon since my oldest, now 21, was a toddler. Lori and I were involved with the Children's ministry many years and currently with youth.
As an Elder in the Lord's church, what scripture motivates you day in and day out? Col. 3:17
---
Lucian Harris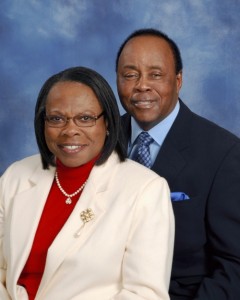 Wife – Mary  (45 years)
Children – 3
Birthday – May 1
Profession – Education
Hobby- Aerobic Exercise
Favorite Color – Red
Favorite Food – Fish
Community – Board Member, NW GA Credit Union
Oversees – Worship, Adult Education, Building & Grounds
I was born in Highland Home, Alabama the seventh of eight children. I was brought up in the church and baptized at an early age. After graduating from Helicon High School in 1964, I obtained a Bachelors Degree (1969) and a Master's of Education (1973) from Tuskegee University. During this time, I worked as a teacher in Auburn and Tuskegee. Moving to Marietta, I served as Principal for seventeen years, while also serving twelve of those years as Minister of the Turner Road church of Christ in Atlanta. I obtained my Specialist of Education Degree from the University of Georgia at West Georgia in 1978 and my Doctorate of Education from Vanderbilt University in 1987. Summarizing, as an educator I have worked as a teacher, principal, Assistant Supt. (Rome City 4 yrs), Deputy Superintendent and before retiring, I served the Clarke County School District, as Superintendent, for five years. Prior to Mary and I moving back to Rome, I served as an elder at Campus View church of Christ for eight years. This is my second time serving as an elder of Oak Hill church of Christ.
My story involves having a passionate faith that manifests itself in a deep abiding love for God, my family, the church, and for others, especially those who have not obeyed the gospel of Jesus Christ. I am thankful daily to God for His love and grace. He continues to bless me with a beautiful wife, a wonderful home, 3 children, and many opportunities to serve him each day. My goal is to live and serve in a manner that my efforts will give honor and glory to God.
As an Elder in the Lord's church, what scripture motivates you day in and day out?  Proverbs 3: 5-6
---
Wife - Glenda (51 years)
Children - 4
Birthday - April 21
Profession - Retired – CDC, Atlanta, GA
Hobby - woodworking; grand kids
Favorite Color - blue
Favorite Food - panini sandwiches
Community - Habitat for Humanity, Community Kitchen, Neighborhood Handyman
I was born and raised in Nashville, Tennessee, brought up in the Church by Christian parents, and was baptized at 14.  I graduated from Donelson High School in 1958 and obtained a Bachelors Degree in Chemistry for Middle Tennessee State College (now University) in 1963.  The next two years was spent in the Army as an Air Defense Missile Officer, followed by two - plus years working as a process development chemist for the Monsanto Company in Anniston, Alabama.  In 1967 Glenda and I moved to Atlanta, GA where I entered Georgia Tech, receiving a Doctorate in Analytical Chemistry in 1973.  In 1971 I started working at the CDC in Environment Health Toxicology. I retired from CDC in 2000, but remain actively involved with CDC in the U.S. program to destroy all of this nation's chemical weapons.
Glenda and I were married on June 1, 1963, and have been blessed with 2 great sons (Bart in Nashville and Chad in Rome) and 6 unbelievably sweet grand kids. The guiding principles on love for God and love for your fellow man found in Matthew 22:37-39 have been the cornerstone in our life together and our service to God and the church.  At Oak Hill we have found that love given is returned ten-fold from our brothers and sisters who put their love and trust in the Lord.
Glenda and I host the Coosa/West Life Group
We currently live in Cedar Bluff, Al where we are blessed to enjoy beautiful sunrises and sunsets over Weiss Lake each day.
As an Elder in the Lord's church, what scripture motivates you day in and day out?  Matthew 22:37-39
---
Steve Murdock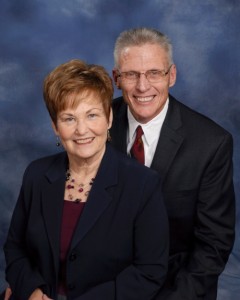 Wife – Rita (35 years)
Children – 3
Birthday – February 27
Profession – H. O. Wolding
Community Involvement – Georgia Agape – Board of Directors
Hobby – water skiing, golf, reading, traveling
Favorite Color – blue
Favorite Food – steak
Oversees- Youth & College Curriculum & Programs, Family Involvement, Early Education P-5
This is my story……… After graduation from high school (Pepperell High) I attended University of Georgia on a football scholarship. I received my Master's degree from University of West Ga. In past years I have been involved with the Floyd County Board of Education, the Chamber of Commerce, and the Exchange Club.  My work takes me out of town during the week so community involvement now is limited. Not any of that is relevant to what really matters in life. At the age of 10, I obeyed the Gospel. I was raised by Christian parents who sought to put God first in their lives and in our home. As a young person, I attended Lindale church of Christ. Since 1979, I have attended West Rome church of Christ and Oak Hill church of Christ serving as a teacher, deacon, elder as well as educational coordinator for grades 1-6.  I now concentrate my efforts on church involvement.
My wife, Rita and I, have 3 children, Kendi (Chris) Gilmore in Knoxville, TN, Shanna (Eric) Johnson in Athens, and Seth (Amy) Murdock in Herndon, VA.  We have 4 grandchildren.
I desire your prayers on my behalf as an elder and pray that my commitment to Christ will grow stronger as I allow Him to direct in my life.
As an Elder in the Lord's church, what scripture motivates you day in and day out?  Isaiah 40:28-31
---
Ron Vick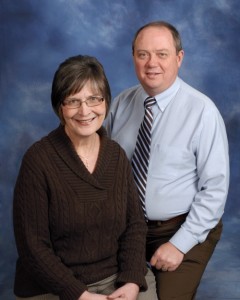 Wife – Angie  (35 years)
Children – 2
Birthday -October 19
Profession – Teacher
Hobby- Computers
Favorite Color – Purple
Favorite Food – Breakfast
Community – Oak Hill Church of Christ; Rome Photo Club
Oversees – Technology/Communication, Worship, Adult Education
My story….. I was born in western Iowa and moved to Illinois in the 5th grade. I could not have asked for a better childhood. We certainly weren't rich, but we had what we needed and plenty of love.
After high school I attended the first 2 years of college at York College, in York, Nebraska to major in Bible. Then I went to Freed-Hardeman College (now University) for my last two years to get a Bachelors of Arts in Bible.  After FHU, I attended Sunset School of Preaching for a year and studied Deaf missions
Angie & I were married on July 29, 1978 and moved to Rome, Georgia on August 7, 1978. I worked for the West Rome congregation and later Oak Hill until 1998. At that time I became an instructor at Coosa Valley Tech.
Along the way the Lord blessed us with the 2 best kids in the world.  Matt & Sarah have grown up  and now have their own Christian homes. Sarah married Matt Simmons and they live in Memphis, TN. They have one son, Andrew. Matt  married Rachel Roberts and they live in Rome.  Both Matt and Rachel are school teachers. Sarah and Matt serve the Lord and seek His will in their lives. This is as much as any parent could ask in this life.
In all of this, the Lord's hand was involved. Of course, 'providence is best seen in  the rear-view mirror. The Lord has taken care of the big things and we've tried to not sweat the little things. You can call me 'well-blessed.'
As an Elder in the Lord's Church, what scripture motivates you day in and day out?  Luke 15:11-32
The prodigal son gives me a lot of comfort. I like the idea of being able to come home. The Father is pictured as being eager for us to come home. At some point we are all the son. I think about Jesus a lot. I think about not only what would Jesus do but how He might feel, how He might see things that are happening in today's world. I really seek to discern His will in my life.
---
Ronnie Turner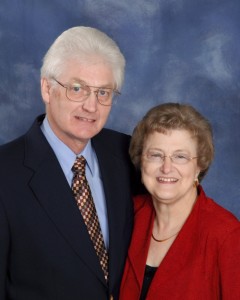 Wife – Charlene  (40 years)
Children – 2
Birthday – December 29
Profession – Education
Hobby- Farming
Favorite Color – Blue
Favorite Food – Ice-cream
Community – GA Farm Bureau
Oversees – Buildings & Grounds, Security
My story… I was born in 1949 in Floyd County. I married my lovely wife, Charlene, May 26, 1973 and have 2 adult Christian children, Danielle (Jake) Duke and Jason.  Both live in Nashville, TN.  Charlene and I have one granddaughter, Laurel. I have an Associate Degree in Science and a B.A. in Business Administration/Mgt. I have been employed with Northwest GA Technical College for 10 years as a teacher of Industrial Electronics. Alvis Miller baptized me into Christ 40 years ago. I thank our Heavenly Father for the privilege of serving as a deacon, and now as an Elder, for the Oak Hill congregation for more than 23 years.
As an Elder in the Lord's Church, what scripture motivates you day in and day out?  Psalms 63